The Exeter
The Exeter runs a virtual AGM during COVID-19 challenges
Virtual AGM is held as The Exeter puts members safety first and opts for a closed election.

The Exeter is a British friendly society offering a range of insurance products including Income Protection Insurance, Private Medical Insurance, Cash plans and Life Insurance. It is one of the United Kingdom's largest friendly societies with over 86,000 members and more than 100 employees. Policy holders automatically become members, which represents a commitment from The Exeter's board that every decision it makes will always be in their best interests.
Democratic Project:
Due to Covid-19, the AGM format was changed to ensure the safety of its members. The Exeter and UK Engage administered a 'closed' AGM which meant members asked to vote in advance either online or by post. Members were asked to vote for 13 resolutions, which consisted of the re-election of 10 directors. UK Engage helped The Exeter finalise plans for the virtual AGM, which were in line with temporary legislation set out in the Corporate Insolvency and Governance Act 2020 which stated that organisations had temporary right to undertake democratic processes entirely in a virtual manner, making use of online meeting and voting systems.
Solution:
As the option to vote in person was not possible, the aim was to provide alternative options for members to vote safely, in advance of the virtual AGM. UK Engage designed a ballot pack which included an explanation of the change of meeting format and what members should expect, instructions for voting online, by post and by proxy, and a four-page booklet for the Directors' Candidate Statements. In addition, a dedicated online voting platform was set up so that members could vote on the 13 resolutions set out or appoint a proxy, giving them the option to participate from their own homes.
Under trying circumstances, The Exeter and UK Engage successfully delivered the 2020 virtual AGM. Online voting eliminated spoils entirely for members who voted via this channel and put forward the case to promote online voting for future AGMs and elections.
"Being a new customer to UK Engage in 2020, I found the delivery quality and adaptability of the team and especially the on-call availability of our relationship manager to be excellent. Our Account Manager was able to adapt designs and invitation documents quickly to take into account changes due to the pandemic to enable us to successfully host our 2020 AGM. We were also able to deliver an e-pack for the first time and increase member  engagement by using the easy to ask question facility, this led to a pleasing increase in AGM voting numbers."
Zoe Kubiak – Company Secretary
To request a downloadable PDF version of this and other case studies, please complete the form below.
You will be redirected to a download page where all case study PDFs are available.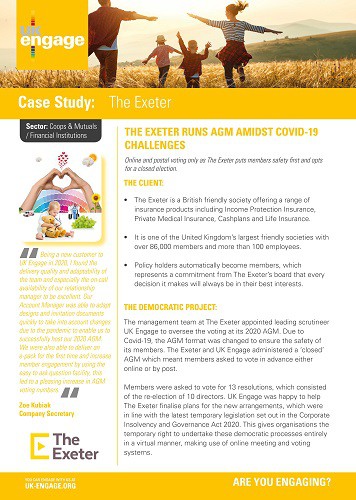 ENGAGE WITH US
Do you have an election, ballot, poll, referendum, AGM or another process you need help with?