Oxford University Hospitals
A Record-Breaking Contested Election For Oxford University Hospitals NHS Foundation
Contested election saw nominations increased by 117% on the previous year

Oxford University Hospitals is one of the largest NHS teaching hospitals in the UK and provides local, regional and national services. Its vision is to deliver excellence and value in patient care, teaching and research within a culture of compassion and integrity.
Democratic Project:
Oxford University Hospitals wanted to make sure the by-election process was transparent and impartial, as well as accessible, in order to encourage its public members to participate and achieve contested elections in South Oxfordshire and West Oxfordshire.
Solution:
UK Engage made the process of nominating and voting as easy as possible. To encourage members to stand as candidates we developed multi-channel options for both the nomination and election phases of the process. In addition, in order to maximise engagement and fill both of the vacant seats, UK Engage provided a cost-effective reminder postcard and election hub, to raise awareness of the election among eligible public members.
Both constituencies achieved contested elections and a record number of candidates took part. The number of nominations increased by 117% in South Oxfordshire and 50% in West Oxfordshire from the previous year's election. The average turnout across the two constituencies was 21%.
Nomination Increase - South Oxfordshire
Nomination increase - West Oxfordshire
"We have worked with UK Engage for the past two years on our Annual General Meeting. They have provided excellent support and advice on how to make the whole process smoother and more efficient, along with a very friendly and down to earth customer service. They have been invaluable in helping us move our AGM process online and the proof is in the record numbers of members voting at this year's AGM."
To request a downloadable PDF version of this and other full case studies, please complete the form below.
You will be redirected to a download page where all case study PDFs are available.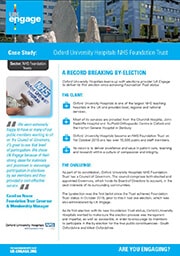 ENGAGE WITH US
Do you have an election, ballot, poll, referendum, AGM or another process you need help with?